Singapore Airlines launches service at Sea-Tac Airport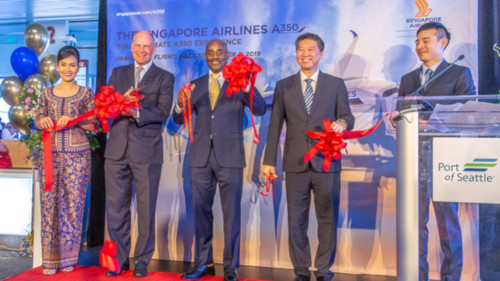 Singapore Airlines has debuted its nonstop service between Seattle-Tacoma International Airport and Singapore.
As only the fourth nonstop U.S. city in the airline's route network, Singapore Airline's choice to expand to Sea-Tac Airport signals this region's prominence as a global business and leisure destination.
"The Puget Sound and Singapore are recognised as global hubs for innovation and culture," said Port of Seattle Commissioner Stephanie Bowman.
"This partnership creates new opportunities for Washington businesses looking to expand in Asia and creates significant business and leisure travel revenue for local companies."
Singapore Airlines brings nonstop service three times per week between Singapore Changi Airport (S and Sea-Tac Airport starting on 3rd September with the airline's Airbus A350-900 aircraft. Service will expand to four days per week beginning in October.
"Today's launch of Seattle to Singapore flights is the capstone on the largest expansion in the history of SIA's U.S. operations to date," said Campbell Wilson, Senior Vice President of Sales & Marketing for Singapore Airlines, citing a 42% increase in the carrier's roster of U.S. departures over the past year. "We can now offer Seattle travellers the only nonstop to Singapore, bringing additional destinations in Southeast Asia, India and Western Australia a bit closer."
The Singapore route is Sea-Tac's first to Southeast Asia, and is also the longest nonstop flight from our airport at a distance of 8,070 miles and flight time of 15 hours and 50 minutes outbound to SIN.
Singapore's hub at Changi Airport provides travellers with connecting options to Australia, Southeast Asia, and India. Here in Seattle, Singapore Airlines codeshares with Alaska Airlines on over 30 domestic routes. As one of Alaska's global partners, Singapore Airlines will offer Mileage Plan members the ability to earn miles on Singapore's Seattle flights.
Sea-Tac Airport is the 10th most connected international hub in the U.S. and the 11th most connected domestic hub, according to the 2018 OAG Megahubs Index. Travelers at Sea-Tac Airport benefit from more choice and lower cost as international service expanded to more than 650 one-stop connections.
Global connectivity is one of the most powerful sources of economic development in the Pacific Northwest. Each new international route brings approximately $74 million in economic activity to the region, and international travellers tend to stay longer and spend more money.
Sea-Tac Airport offers social and economic benefits to the region through expanded options for travel. Sea-Tac is just one of seven U.S. airports where more than one airline operates a true connecting hub, giving residents more choices on carrier and schedule.
Singapore Airlines is the 12th new international service added to Sea-Tac since 2017. This past spring saw the addition of three new nonstop services to Asia: Japan Airlines to Tokyo-NRT, Cathay Pacific Airways to Hong Kong and Delta Air Lines to Osaka. Air Canada will add a Seattle-Montreal flight beginning May 4, 2020, and Lufthansa will follow with a new nonstop Seattle-Munich service on June 1, 2020.
In the fall of 2020, the Port of Seattle will open the new International Arrivals Facility, bringing an experience worthy of our region as global gateway served by world-renowned airlines. The IAF will significantly improve connection time, efficiency, and service to millions of annual international travellers. The facility will increase the number of gates capable of serving international wide body airplanes from 12 to 20.